About Inge
Inge Winther
Inge is a seasoned real estate sales representative known for her professionalism, integrity and superior commitment to client service. Focusing on country properties and real estate offering country lifestyles, Inge is ideally qualified to offer both buyers and sellers her expertise in the field.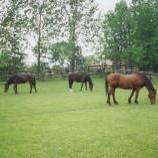 Inge knows what it is like to 'live in the country'. As horse owner and area resident for many years, she understands country property owners. She can share, on a personal level, the many benefits of a country lifestyle to those seeking a change from urban or suburban living.
Inge's Success
Repeat business has been the hallmark of Inge's career. Both past clients and referrals from past clients have formed a significant part of Inge's success. This success over the years is owed in no small part to her commitment to service and her satisfied clients.

Inge is a member of the Toronto Real Estate Board and the Oakville, Milton and District Real Estate Board and can offer exceptional exposure to her listings. Beyond that, Inge markets her listings over a broad range of platforms to ensure the best possible results are obtained - both in terms of price and time. Inge understands the ever-changing requirements of real estate marketing. She has a determined, yet diplomatic, negotiating style that is not only results-driven, but is in keeping with the clientele she serves. She is well-known and well-respected for her 'client first' commitment.